At Alpenwild, we stress the importance of conditioning for our hiking and trekking tours. Physical exercise, namely hiking and trekking, burns calories. Our body needs calories and energy to function. As you train for your Alpenwild hike, be sure to eat right as well. Not eating right can negatively affect physical performance (not to mention mental performance as well). Here is a personal story and some eating tips for hikers as well as my favorite healthy granola recipe. 
My experience
I picked up running in 8th grade and have loved it ever since. I specifically participated in cross-country. There was one meet I remember in particular, in Coeur 'd'Alene Idaho. Coeur D'alene has a relatively lower elevation than my hometown, so my teammates and I all expected to perform well at the race.
The morning of the race, (we bused in the night before and stayed at a local hotel) we all got up. The races started at about 10 am and there were two questions: "To eat or not to eat?" and "If to eat, then what to eat?" Based on past experience, I knew I didn't do well with solid foods right before a race but I was hungry, so I opted in for a piping hot chocolate. I thought the warmth of the beverage would wake me up and the sugar would give me just the kick I needed to perform well.
However, before the race, my tummy was grumbling. During the race the hot chocolate was sloshing around in my stomach, I became bloated, cramped and felt sick. I certainly couldn't stop to stretch – I had a time to beat! Unfortunately, I was one of the only runners that didn't set a personal record that day. I'm sure no one remembers but I sure do. The race was a 20 minute lesson that, for me, I didn't eat right that day; it's not smart to drink hot chocolate before a race.
Eating tips for hikers
As you condition for your Alpenwild hikes, pay attention to your body and what you eat. Start by eating right.
Get plenty of cereals (meaning oats, wheat – natural plant based energies), these are filled with calories that are easy for your body to digest.

Plant-based proteins (nuts, legumes, beans) are excellent sources of energy.

Avoid meats as they are hard on the gut. Fruits will give you natural sugars for short-term energy, the cereals will sustain you.

Leafy greens will provide iron for your blood and fiber to help food move smoothly through your digestive system.
Eat goodness
In my opinion, a quick rule of thumb to recognize whether a food is healthy is to look at the packaging. Yes, the nutrition label reigns supreme but how much physical packaging does the product require? Packaging is usually an indicator of how much a food is processed. For example, American-made cheeses are often shrink-wrapped and highly processed. Swiss cheeses are alive with texture and flavor and often do not come in plastic packaging. Many "unhealthy" foods come in a package then are individually wrapped. Now that is not always true (think fresh cotton candy at a fair and wrapped granola bar), but look around, see if you notice a pattern.
As you perform training hikes and eat right, your body will have the nutrients it needs to build muscles and endurance. You will become a stronger hiker. Today, I want to share one of my favorite healthy recipes created by the best cook I know, my Mother! It is great for hikers, trekkers and health conscious people! May I introduce: the one and only Rocky Road Healthy Granola.
Rocky Road Granola Recipe
Ingredients 
4 cups of oats 

½ cup brown sugar, packed 

½ cup of sliced almonds

¾ cup of dried fruits ( cranberries, raisins, peaches, apples) 

1 tsp cinnamon 

¼ tsp kosher salt 

¼ cup honey 

⅓ cup coconut oil 

1 tbs vanilla extract 

½ tsp almond extract 
Instructions 
In a large bowl, mix the oats, brown sugar, almonds, raisins, wheat germ, cinnamon and salt. 

In a microwave safe bowl, heat honey until warm. Stir in coconut oil. Whisk in vanilla extract, mix honey and oat mixtures. 

Spread evenly over a cookie sheet lined with a baking paper. Bake at 300 degrees for 25-30 minutes. Let it cool completely ( for about an hour). Fold the sides of the parchment paper and dump granola into a ziploc bag or air tight container. 

Approximately 10 ½ cup servings. Shelf life: two weeks. ( If you're eating it daily like me though, it won't last that long:)
This is incredibly tasty as a cereal alternate breakfast or an on-the-go snack. Eat it with yogurt, milk or alone! Enjoy!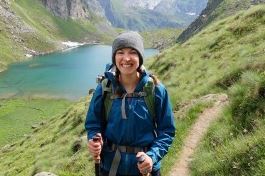 Latest posts by Emily Jones
(see all)